Had a recovery day yesterday, did a bit of shopping, took some photos, drank a couple of glasses of wine, relaxed.
Today I wanted to work on intervals around 310W (FTPish) with shortish recovery intervals between as a result of a poor performance on Friday's
2x20
session. For some reason, and it's not just me, starting the second 20 of a 2x20 seem extraordinarily hard so I wanted to work in that area for a while.
About a month ago I devised the following interval set (with a 2 min recovery interval between each one) with 37 mins at or above 300W so this was the first time I'd tried it:
6 mins x 330W
5 x 300
4 x 320
3 x 310
5 x 300
6 x 310
4 x 320
3 x 300
1 min all out (achieved 408W)

Black=power, red =HR.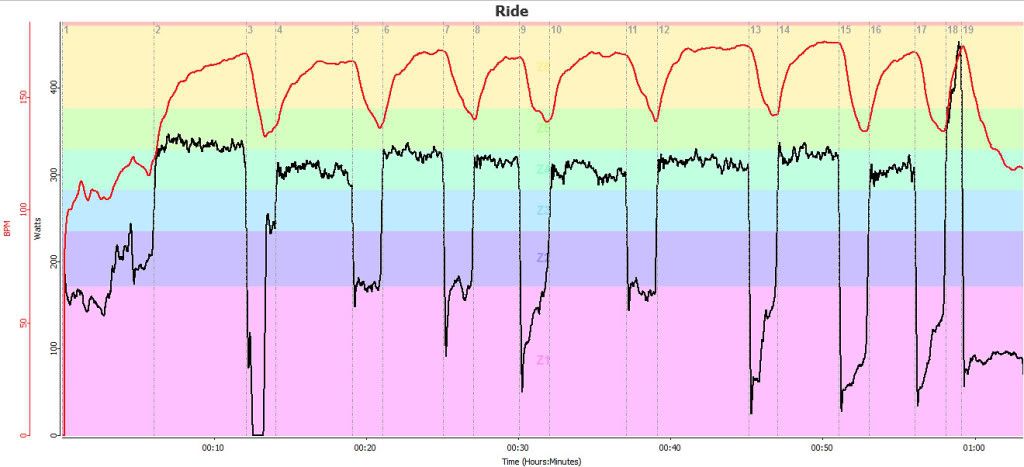 Any power variations through the intervals were me trying to manage my average power to ensure that I didn't overcook it too early in the session. Intervals 6 and 7 got my HR up to LTHR and I was suffering a bit towards the end of the 7th. The last 1 min interval was very hard and I did it on feel rather than looking at my power output, which probably explains why it rises throughout. At the start I was quite conservative and then allowed power to build throughout the interval, really whimpering and grunting by the end of it. It's no surprise that the slope of the HR rise for the last interval is so steep.
Overall the session was quite enjoyable and I can imagine being able to repeat intervals 5, 6, 7 and 8 to make it a longer session before hitting the final all-out interval.